Head & Neck
Ear, Nose, & Throat Care in Detroit, Michigan
At Downriver ENT, we believe everyone deserves a healthy, strong body, and we're committed to providing high-quality care for the ears, nose, and throat. Whether you're suffering from chronic allergies, muscular problems, or an acute condition, our doctors will work with you to carefully diagnose your problem, outline a treatment plan, and get you back to complete health. We treat conditions of the head and neck of all kinds, ranging from mild inconveniences to serious conditions – and no matter what you're facing, we'll help you overcome it.

Head & Neck Cancer
Head & neck cancer is a blanket term for a wide variety of cancers that can affect the head, neck, mouth, and throat. Generally, the term doesn't apply to cancers affecting the thyroid, parathyroid, salivary glands, brain, eyes, nose, sinuses, and esophagus – these are treated as their own unique forms of cancer. In most head & neck cancers, cancer forms in the "squamous" cells that line the surface of the throat and mouth. This squamous cell cancer makes up about 95% of head and neck cancer cases. This cancer can develop in three primary regions: the oral cavity (mouth), the larynx, and the pharynx.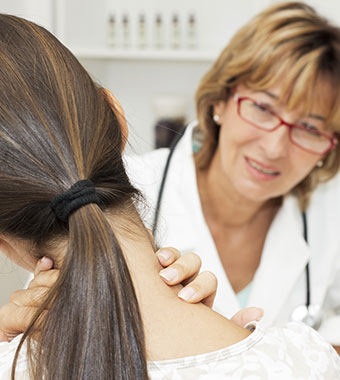 Squamous cell cancer can come with a variety of symptoms:
Persistent sore throat that won't heal
Problems swallowing or opening the mouth all the way
Problems moving the tongue
Unexplained weight loss
Persistent ear pain
Unexplained changes in the voice
A lump in your throat, neck, or mouth that doesn't go away
These cancers are extremely serious, so if you experience any of these symptoms, please contact us immediately.

Treating Head & Neck Cancers
Every patient is different, and your doctor will work with you to select the best treatment plan for your unique situation. This may include surgery, chemotherapy, or another form of treatment – but whatever we decide, we'll answer all your questions carefully to ensure you understand your situation and all your options, and we'll work with you to get you back to total health.
Contact Your Southfield, MI ENT Doctors
If you think you might be suffering from a head & neck problem, want to find out more about the conditions we treat, or just want to learn more about head & neck health, we're always happy to speak with you. You can learn more about our practice by visiting our FAQ, call us at (313) 381-8787 for our Allen office or (248) 304-7772 for our Southfield office, reach out to us at our contact page, or schedule an appointment online at either of our offices. We can't wait to hear from you, and we're excited to help you achieve total, optimal health.