Everything You Didn't Know About Your Local ENT, Pt 2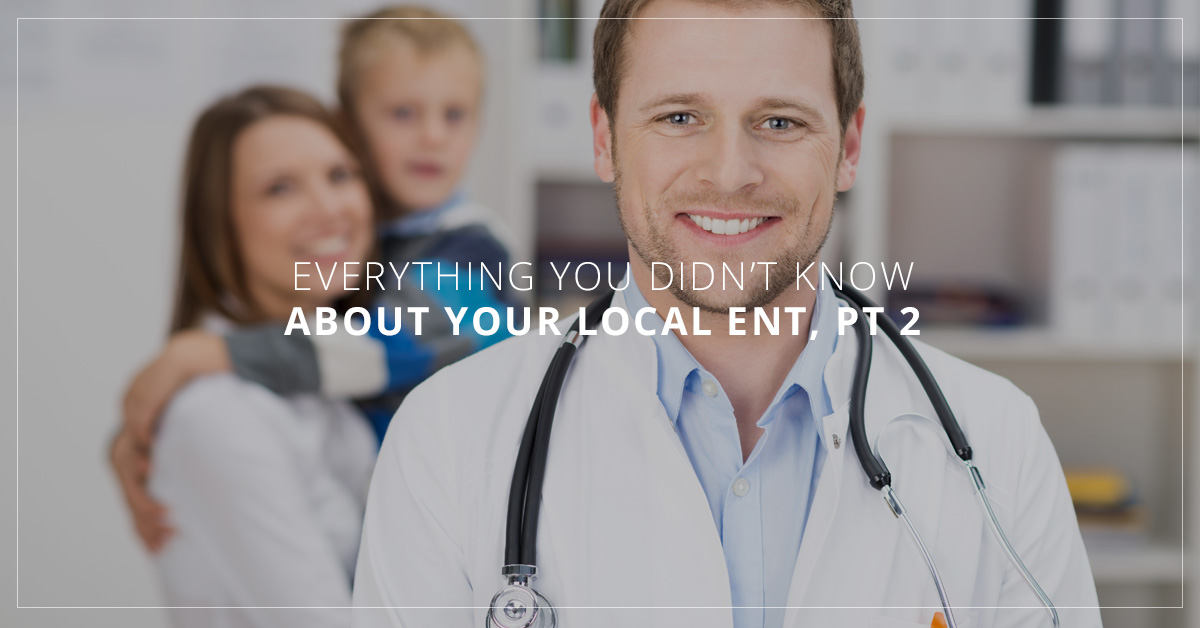 Here at Downriver ENT, we're helping the residents of Southfield, Allen Park, and the Dearborn area find relief from their allergies, a diagnosis for their chronic conditions, and help with all things related to the ear, nose, and throat. With summer just around the corner, we're used to seeing people to help them find relief from their allergies to ragweed pollen, grass pollen, tree pollen, mold, dust, dander, and more.
Though people who suffer from severe allergies might not always experience discomfort all the time, it's normal to suffer through rough bouts depending on the humidity, temperature, and time of year. Our goal at Downriver ENT is to provide ear, nose, and throat services to people who desperately need to find relief from their seasonal allergies. For accurate allergy testing or anything else related to ENT services, reach out to the experts at either of our Downriver ENT locations.
In part one of our blog series, we discussed a few of the amazing ENT services that we provide at both our Southfield and Allen Park locations. We learned how valuable allergy testing can be and that if someone is struggling with allergies, they need not suffer longer — relief might be just around the corner. We also discussed the value of early diagnosis when it comes to throat, neck, head, and mouth cancers. The professional ENT team at Downriver ENT can help you get a quick diagnosis and give you amazing treatment options. But these two amazing services are far from everything offered at our ENT clinic.
In today's blog, we're going to delve into a few more of the awesome services offered at Downriver ENT. Continue reading to learn more about these valuable ear, nose, and throat offerings.

3. Ear Services
For over 30 years, Downriver ENT has been providing superior ear services to Southfield adults, young adults, and children of all ages. Since ear problems are far from a condition only experienced by children, we tailor our services to meet your specific needs so that you can find relief from whatever ear-related discomfort you've been dealing with. Our ENT specialists can pinpoint the cause of your problem and provide you with a much-needed solution.
One out of every ten Americans suffers from hearing loss for one reason or another and despite common beliefs, hearing loss is always the result of significant hearing damage. In actuality, hearing loss can be the result of a medical condition, ototoxic medications, age, and more. Though adults generally do lose some of their ability to hear well as they get older, there are still plenty of younger Americans who deal with hearing loss.
You may need to make an appointment with our ENT professional team if you deal with any of the following hearing related symptom:
Feeling like others are mumbling
Difficulty hearing in situations with background noise
Constantly asking people to repeat themselves
Raising the volume on electronic devices
A general decrease in the quality of life
Ringing in the ears
Complaints of depression, fatigue, or stress
Don't let hearing loss keep you from enjoying your life. Make an appointment at one of our ENT clinics today!
4. Sinus and Nasal Surgery
Experiencing frustrating symptoms from nose and nasal issues can be tough to deal with. Whether you find it difficult to breathe, your snoring is keeping your spouse awake, or anything else, when relief is at your fingertips, why not act? With a simple sinus or nasal surgery, you could finally enjoy the quality of breathing that you've been missing.
Sinus Surgery – When a patient experiences chronic sinus infections and they find that medications are no longer effective, it might be time to schedule a sinus surgery with our ENT clinic. Surgeries can open the nasal passages and allow for greater drainage, diminishing the chances of getting sinus infections. For information about our sinus surgery, reach out to us today!
Nasal Surgery – People seek nasal surgery for all kinds of reasons. We've performed these procedures for cosmetic purposes, in an effort to alleviate breathing problems, to correct deformities, to support an aging nose, or any combination of the above reasons. If you'd love to talk to our ENT experts about a nasal surgery, contact us at one of our ENT locations today!
5. Pediatric ENT Services
When it comes to the pediatric ear, nose, and throat services, you can find no better ENT clinic than Downriver ENT. Both of our locations specialize in serving the needs of our patients, no matter how old they are. Over the years, we've helped countless patients in and around the general Detroit metro area. Our experience, professionalism, and patient-centric approach to treatment have made our two locations a common stopping point to address major issues with pediatric ENT services.
There are all kinds of reasons for our younger patients to need our services. Among our youngest patients, we see a lot of ear infections affecting the inner, middle, and outer ear. These issues are quite common and easily treatable.
In addition to the ENT services we provide for children and babies, we've also performed countless allergy testing procedures on children of all ages. This helps their parents to get answers to random reactions, have peace of mind with certain foods, and know the overall status of their child's allergic reactions. When it comes to allergies, knowledge is power.
If you find yourself in need of ENT services for your child or infant, don't hesitate to contact our team of professionals at Downriver ENT. We've got the experience, the professionalism, and the people-centered approach to give you the answers and solutions that you're looking for. Reach out to us today to schedule your child's appointment
Though we've done our best to sum up some of our biggest services here at Downriver ENT, there is so much more to say about these amazing ENT clinics in Southfield and Allen Park. If you have questions about any of the services we discussed, or any of the services we didn't talk about, feel free to reach out to us at Downriver ENT and schedule your ENT appointment today!